Diversity, Equity & Inclusion Champion Network
An exclusive inclusive network for DEI Champions certified by Living Institute
Network community for certified DEI Champions

Four virtual network meetings a year
How is the Network Designed & Why Should I Join?
As DEI Champions, you are primed to drive systemic transformation. However, transformation takes time. We'd really like to support you beyond the seven modules of the DEI Champion Certification. The DEI Champion Network has been created to do just that.
We wanted to co-create this network with you, so our most important step in the design process has been to be in dialogue with you, the certified DEI Champions who completed the Master Class with Living Institute. Through our conversations, we are learning about your experiences of the certification program, about the areas you would like to dive deeper into and about what you would hope to gain from being part of the network.
We also looked at the market to see what was out there and gathered feedback from DEI stakeholders on the pros and cons, likes and dislikes about being part of professional networks, and this is where we landed.
Through participation in 4 virtual network meetings per year, you will:
Activate and deepen your knowledge of DEIB in a conversation with experts, thought leaders and renowned scientists from around the globe
Nurture your relationships with your fellow certified Champions
Have the time and space to share your experiences in driving change
Learn from the best – all the certified Champions practising DEIB globally
DEI Champion Network
You're invited to attend 4 annual sessions featuring expert speakers, thought leaders and renowned scientists from around the world who'll share the newest developments for enhancing DEIB.
In between visits from these experts, we'll dissect real life challenges that you – as DEI Champions – bring to the roundtable, from which we'll all draw out the very best practices to implement in our respective contexts. In other words, together we'll dive deep into the ocean of DEIB and connect with like-minded professionals by joining a network available to everybody who (like you) is a certified DEI Champion.
Don't worry, we (and you) can help!
You're back at work, well on your way to transforming your workplace culture — but something's missing. Maybe it's that special sense of belonging when you're among peers who've learned what you have, who can light the fire of inspiration as easily as a spark to dry leaves? Maybe you have that particular zest for pouring all your new knowledge into concrete initiatives and are now witnessing that incredible before-and-after effect that you and your fellow Champions have been hungry for – and it's given you an entirely new appetite, to get into the meat of all those concepts you've become familiar with?
4 facilitated sessions a year
Network Meetings in 2023:
Meeting #1: April 19th
Real-life Case #1 from a client organization
Meeting #2: June 19th
Conversations with a global DEIB thought leader/expert on topic #1
Meeting #3: Sept. 20th
Real life Case #2 from a network member's organization
Meeting #4: Nov. 21st
Conversations with a global DEIB
thought-leader/expert on topic #2
Time:
1pm – 4pm CET
Format
Zoom and Slack
Language:
English
The program is designed for:
DEI Champions certified by Living Institute
Fee:
€1,600 + vat if applicable
For sign up or more info
Please contact Christina Berggren
nicol.savinetti@livinginstitute.com
+45 50 50 73 48
Book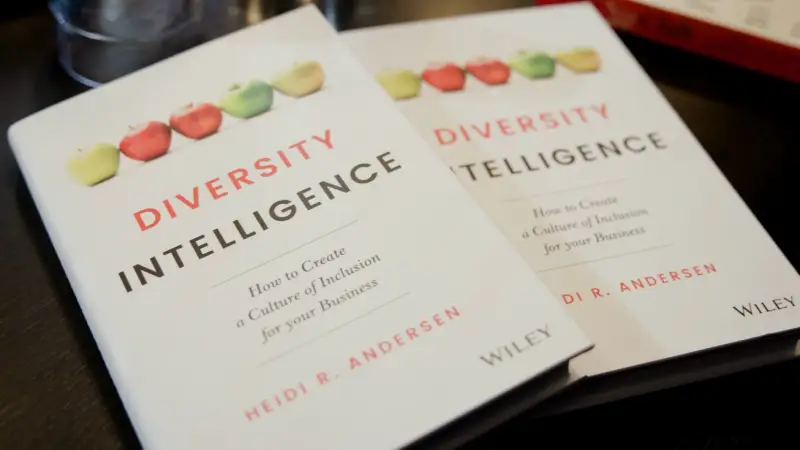 Diversity Intelligence: How to Create a Culture of Inclusion for your Business
Heidi R. Andersen, founder of Living Institute, has stuffed over 18 years worth of experience into a practical handbook on making inclusion an essential aspect of your company culture.
The book is on the recommended read list of 238 accredited business schools and universities – including Insead, Oxford University, London Business School, Said Business School etc.